Yu Lin: Rock whatever you wear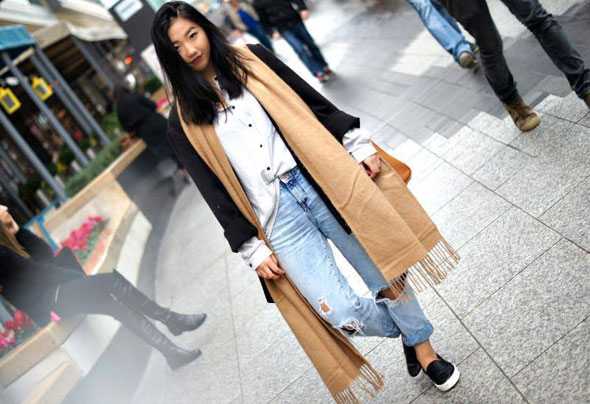 Yu Lin je modna blogerka iz Norveške koja trenutno živi i studira dizajn u Velikoj Britaniji. Pričali smo sa Lin o modi, planovima, blogu koji piše, ali i o savetima kada je u pitanju oblačenje za matursko veče.
Modni Vrisak: Reci nam nesto više o sebi i svom usavršavanju u Velikoj Britaniji?
Tell us something more about you and your fashion university specialization in UK?
Yu Lin: Moje ime je Yu Lin, iz Norveške sam, ali trenutno studiram dizajn na Umetničkom fakultetu Bournemouth. Planiram specijalizaciju u oblasti 3D inovacija sledeće godine.
My name is Yu Lin, I'm from Norway, but I am currently studying Fashion at the Arts University Bournemouth. I plan on specializing in 3D innovation next year.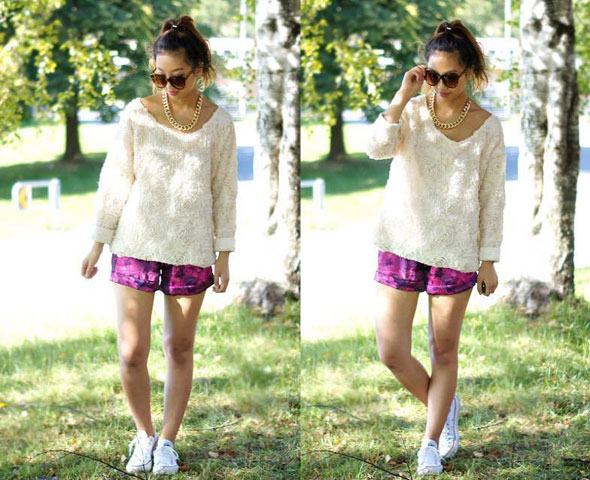 Modni Vrisak: Na koji način je i u kojoj meri Britanija uticala na tvoj stil?
In which way UK affected on your style?
Yu Lin: Odrasla sam u prilično malom gradu u Norveškoj, tako da kada sam se preselila u UK gde se ljudi oblače kako god žele, postala sam smelija. Ne u pravcu da nosim otkačene komade, već sam pronašla svoj lični stil i prilično se lagodno osećam u onome što nosim.
I was raised in a quite small town in Norway, so when I moved to the UK where people dresses however they want, I kind of became more daring. Not in a way that I wore crazy pieces, but I kind of found my own style and became very comfortable in what I wore.
Modni Vrisak: Poreklom si iz Kine, da li smatras da Kina ima potencijal da postane ozbiljna modna prestonica?
You are originally from China. Is there any potentical for Beijing to become a fashion capital place?
Yu Lin: Moja porodica je poreklom iz Kine, da! Ali ja sam rođena i odrasla u Norveškoj. Da budem iskrena, čisto sumnjam. Mislim da će centri mode ostati tu gde jesu.
My family is originally from China, yes! Not me, I was raised and born in Norway. To be honest, I don't think so. I think the fashion capitals will stay as they are.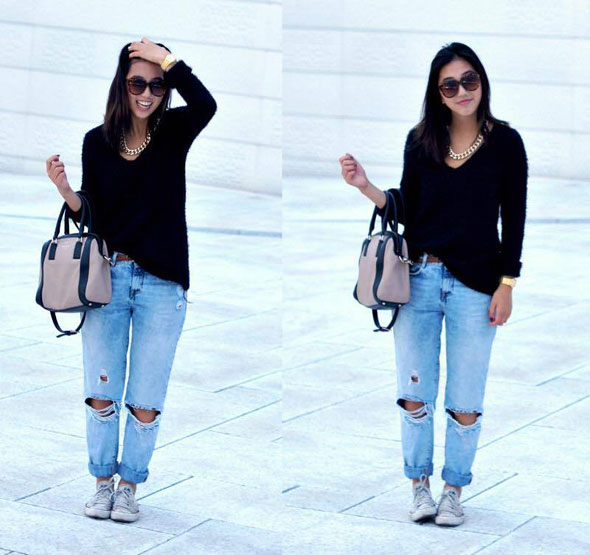 Modni Vrisak: Sa kojim bi dizajnerom poistovetila svoj stil?
Which famous designer is the most similair to your style?
Yu Lin: Vau, sa sličnim stilom kao moj? Nisam sigurna, jer ne znam koji je u stvari moj stil. Ja se još uvek razvijam kao dizajner i trenutno radim na tome da pronađem svoj dizajnerski identitet. Ali sviđaju mi se Zohji Yamamoto, Issey Miyake i Alexander McQueen.
Wow, similiar to my style? I can't really say, since I don't know what my style is. I'm still growing as a designer, and I'm currently working on finding my design identity. But I do like Yohji Yamamoto, Issey Miyake and Alexander McQueen.
Modni Vrisak: Koliko si dugo radila na svom portfoliju i koji ti je omiljeni projekat?
How long you have been worked on your portfolio and what is you favorite university project you worked on?
Yu Lin: Moj portfolio je bio projekat za fakultet, i to je u stvari kolekcija radova sa moje prve godine. Počeli smo oko marta ove godine i predali rad sredinom maja. Projekat je trajao 9 nedelja. Moj omiljeni projekat je moj prvi, a zadatak je bio da izdizajniramo 50 kolekcija. Tada sam u stvari naučila kako se prave kolekcije i koliko je stvarno potrebno uložiti rada u sve to. Svidelo mi se.
My portfolio was a project at university, which is a collection of work from my 1st year. We started around march this year, and handed in in the middle of may. It was 9 week project. My favourite project was my first one. Design realisation, where we had to design a 50 design collection. That's when I actually learned how to make a collection and how much work goes into it, I loved it.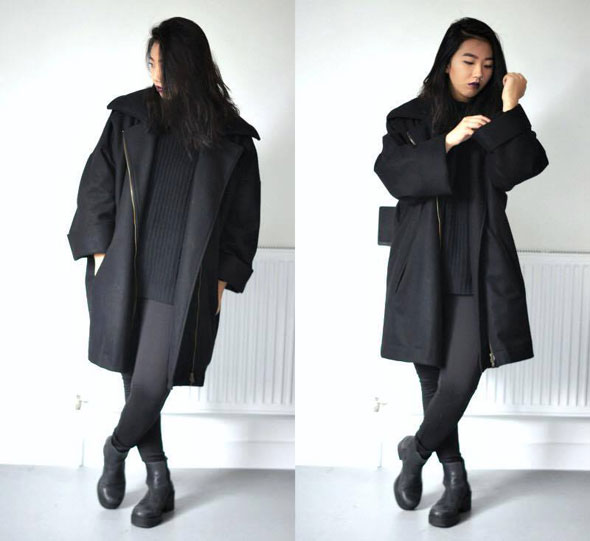 Modni Vrisak: Pišeš blog. Da li imaš ambiciju da postaneš full time bloger i koliko ti blog, kao medij, znači?
You are blogger, too! Do you have an ambition to become a full time blogger and what blog, as a strong media, means to you?
Yu Lin: Da pišem blog! Pre sam baš često blogovala, ali obaveze oko fakulteta su postale velike. Volela bih da provodim više vremena na njemu. To je za mene način da podelim moja interesovanja i život. Ne uzimam ga previše za ozbiljno. Pišem sve opušteno i ne previše formalno, ali ako je dobro napisan, blog može da bude jak medij za komunikaciju sa ljudima iz modne industrije.
Yes I am! I used to blog quite frequently, but university has been quite busy. But I would love to spend more time on it. However, it's just a way for me to share my interests and life, I don't take it seriously. I keep everything very casually and not too formal, but I mean a blog could be a strong media to communicate with people from industry if it's well done.
Modni Vrisak: Da li možeš da daš neki savet devojkama kako da se obuku za maturu?
Can you give some prom advice to girls from Serbia?
Yu Lin: Savet za maturu? Svi imaju svoj neki stil, tako da bi moj savet bio da slobodno nabace ono što inače nose, ali samo nemojte da nosite cipele u kojima ne možete da hodate. Neudobno je i nije zabavno. Ne želite da budete jedna od onih devojaka koje skidaju cipele na plesnom podijumu. I još jedna stvar, haljina bez bretela = brus bez bretela.
Prom advice? Everyone has their own style, so my advice is just rock whatever you are wearing, but please don't wear shoes you can't walk in. Its uncomfortable and it's not going to be fun. You don't want to be one of those girls taking off their shoes on the dancefloor. And one more thing, strapless dress = strapless bra.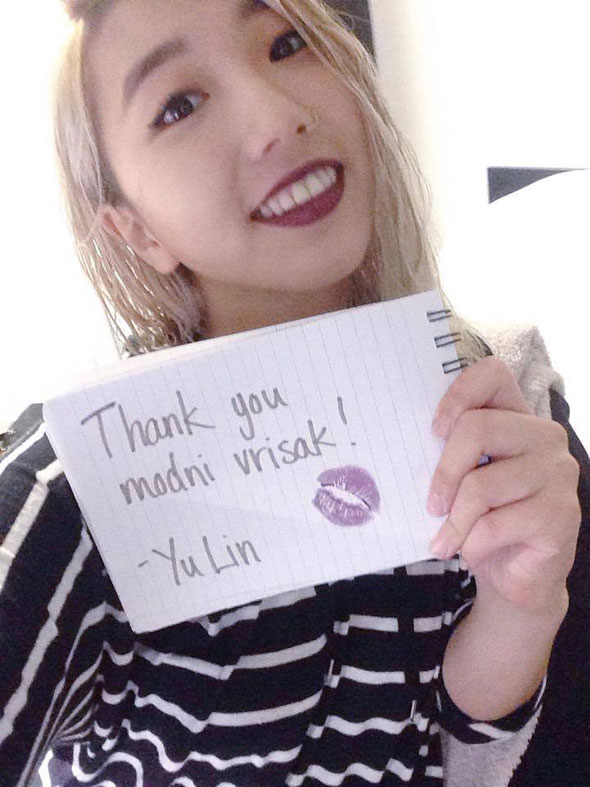 Yu Lin možete pratiti na blogu
cashmereandcherrypie.blogspot.com
ili preko instagrama
@yulin_f
.
U galeriji ispod pogledajte skice njenog portfolia koji je radila na fakultetu.
Galerija
Dodaj komentar